Grenville & Beatrice (that's us) are ecstatic to announce that we have a new Granddaughter – and we're pretty happy too. Getting a new one is always good because why get an old one?
As readers of this blog, you may (or may not) know that we have a 4-1/2 year old grandson. This new 6 lb, 18-inch arrival is his baby sister, born on Wed, July 19. When Grandson#1 was about to be born, we travelled cross-country to CA. Thankfully his parents relocated to New England, now they're (only) 10 hours away.
That means – a ROAD TRIP to RI to visit the grandkids – and their parents – and it starts this weekend. We're heading to RI by way of a stop in N, then returning home by way of a stop in PA. The stops are to visit family in both states. While we're in RI, we're also visiting with family in CT.
Granddaughter #1 was earlier than expected, but then babies don't care about scheduled C-section operations and, more than that, don't care – when it's time, it's really time.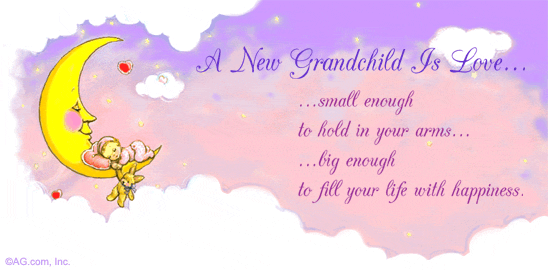 Graphic courtesy of American Card greetings